WoofConnect: Transforming Dog Boarding in Yuma – A Cozy Corner of Love and Care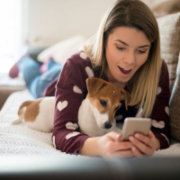 Here at WoofConnect, we totally understand. Your dog isn't just a pet; your dog is family. When it's time for a vacation or a weekend escape, the last thing you want is to leave your furry buddy in a cold, impersonal kennel in Yuma. You want your pooch to feel just like at home, enveloped by the same love and care they're used to. That's precisely the warm, fuzzy feeling WoofConnect aims to deliver!
WoofConnect – Yuma's Premium Home-like Dog Boarding Experience
WoofConnect isn't just an app, it's your friendly community dog boarding solution in Yuma. We pair your four-legged friend with a local dog owner who has a pet of the same breed and similar age. It's a two-way street – you take care of each other's dogs during vacations. And you know what? This system works so beautifully that owners often plan joint outings. With WoofConnect, it's always a match made in doggie heaven!
Our Unique In-Home Dog Boarding Concept – A Meeting Point for Dog Lovers
WoofConnect is all about nurturing strong bonds. We guide you in finding fellow dog owners in Yuma who have a dog of the same breed or crossbreed and age as yours. These dogs just seem to vibe – they 'speak' the same language and share the same energy levels. No kennels, no cages, just a homey environment with a sitter who gets your dog's breed and energy.