WoofConnect: Free Dog Boarding in Peoria for Your Beloved Companion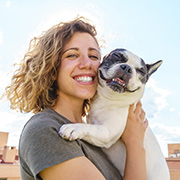 Attention, dog owners of Peoria! Are you tired of the same old dilemma every time you plan a vacation or a weekend getaway? The question of what to do with your beloved furry friend can be a real headache. Traditional kennels just don't cut it – you want your canine companion to enjoy a loving, comfortable, and nurturing environment while you're away. Well, fret no more because WoofConnect is here to save the day! We specialize in connecting dog owners with exceptional caregivers in Peoria who will open their hearts and homes to provide top-notch care for your furry family member.
WoofConnect Connects Dog Owners in Peoria for Unparalleled Boarding Experiences
Here at WoofConnect, we understand the power of companionship and the profound joy that dogs bring into our lives. That's why we take pride in connecting dog owners in Peoria with like-minded dog owners who have dogs of the same breed or crossbreed, and similar age. We firmly believe that dogs who share a common language and energy level are destined to become the best of pals. Just imagine the pure happiness and excitement your furry friend will experience when they have a playmate who truly gets them. It's a recipe for boundless tail wagging and unforgettable memories.
A Haven of Comfort: Indulge Your Pooch with Loving Boarding in Peoria
Bid adieu to cold, impersonal kennels and welcome your furry friend to a haven of comfort and warmth. At WoofConnect, the sitters in Peoria provide a nurturing and homely boarding experience that puts your dog's well-being at the forefront. They go the extra mile to create a cozy and secure environment, showering your pooch with personalized attention and care tailored to their unique needs. The sitters understand the intricacies of your dog's breed and energy level, ensuring that they feel right at home during their stay.