Transforming Dog Boarding in Good Year: Home-like Comfort with WoofConnect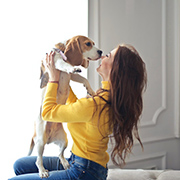 In the hustle and bustle of life, we often forget that our beloved dogs are not just pets; they are cherished members of our family. When it's time for a vacation or a weekend getaway, leaving your furry friend in a cold, impersonal boarding facility is the last thing you want. You want your dog to feel the same warmth, love, and care they receive at home. That's where WoofConnect comes in, revolutionizing the way we approach dog boarding in Good Year.
WoofConnect – Where Dog Boarding Meets a Home-like Haven
WoofConnect isn't just an app; it's a online community dedicated to providing a home-like boarding experience for dogs in Good Year. We believe that dogs thrive in a familiar environment, surrounded by love and care. That's why we connect you with local dog owners who have dogs of the same breed and age as yours. It's a two-way street – you take care of each other's dogs during vacations, creating a symbiotic relationship built on trust and mutual understanding.
Creating Lasting Bonds – WoofConnect's In-home Dog Boarding Concept
At WoofConnect, we understand that dogs are social creatures who thrive on companionship. We go beyond traditional boarding facilities by nurturing strong bonds between dogs. Through our platform, you can find fellow dog owners in Good Year who have dogs that share the same breed or crossbreed and age as your furry friend. These dogs simply "click" – they speak the same "woof" language and have compatible energy levels. No cages or cold environments; instead, a cozy home-like setting with a sitter who genuinely understands and cares for your dog's unique needs.