Free Dog Boarding in Surprise – WoofConnect, Your Dog's Home Away From Home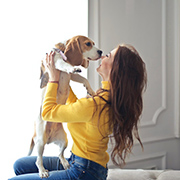 Revel in the comfort and satisfaction of knowing your furry friend is in excellent hands, thanks to WoofConnect, the leading dog boarding solution in Surprise, Arizona. It's time to say goodbye to soulless kennels and hello to a home-like environment where your dog will receive the affection and care it deserves. Our unique approach matches your dog with a compatible companion of the same breed and energy level, creating an unrivaled boarding experience.
Your Vacation Solution – WoofConnect's Free Dog Boarding in Surprise

As a dog owner, you've undoubtedly grappled with the vexing question: What happens to my dog when I'm on vacation or away for the weekend? With WoofConnect, your worries are a thing of the past. We provide your furry companion with a comfortable, home-like environment, ensuring that your pet is cared for by a dog owner who understands its breed, age, and energy level.
A Tail-Wagging Match – Connecting Dog Owners in Surprise

At WoofConnect, we believe in compatibility. We help you find a perfect match with dog owners in Surprise who share a dog of the same breed, crossbreed, or age. A shared language and energy level between dogs make for a content and peaceful stay. With WoofConnect, your dog's boarding becomes a play-date, creating bonds that extend beyond your vacation.