WoofConnect: Revolutionizing Dog Boarding in Buckeye – Your Dog's Home Away from Home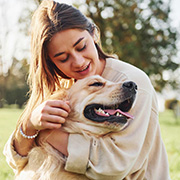 In the whirlwind of our busy lives, it's important to remember that our dogs are more than just pets – they hold a special place as cherished members of our family. So, when it's time to embark on that much-needed vacation or a quick getaway, the thought of leaving your furry friend in a cold, impersonal boarding facility is far from comforting. You want your dog to experience the same love, warmth, and care they receive at home. That's precisely why WoofConnect is here, revolutionizing the dog boarding landscape in Buckeye.
WoofConnect – Where Dog Boarding Embraces a Homely Haven
WoofConnect goes beyond being a simple app; it's a thriving online community dedicated to providing dogs in Buckeye with a boarding experience that feels just like home. We understand that dogs thrive in familiar surroundings, where they receive abundant affection and attention. That's why we connect you with local dog owners who have dogs of the same breed and age as yours. It's a beautiful reciprocal arrangement – you take care of their dogs during their vacations, and they reciprocate the favor when you need it. This creates a bond built on trust, compassion, and mutual understanding.
Creating Lifelong Bonds – WoofConnect's In-Home Dog Boarding Concept
At WoofConnect, we recognize that dogs are social creatures who flourish through companionship. We go beyond traditional boarding facilities by fostering lasting connections between dogs. Through our platform, you can find fellow dog owners in Buckeye whose dogs share the same breed or crossbreed and age as your furry friend. The magic lies in the compatibility – these dogs understand each other's language and possess similar energy levels.
Imagine this: You're matched with other dog owners in your area who have dogs of the same breed and age as yours. Picture your Golden Retriever bounding along with another Golden, their tails wagging in perfect sync. These dogs not only share physical resemblance but also share an unspoken understanding. It's the kind of connection that can only be described as soulful.
Why is this important? Well, just like us, every dog is unique. A sprightly Jack Russell Terrier may not vibe with a laid-back Basset Hound. But with WoofConnect, we cater to these individual needs. We help you find the most compatible playmates for your four-legged family member based on their breed, age, and energy level. It's like creating a circle of friends that understands and appreciates your dog's personality as much as you do!