Find the Perfect Dog Boarding Solution in Tempe – WoofConnect Ensures Loving Care in a Home-like Environment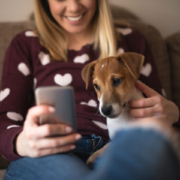 Are you searching for the ideal solution for your dog's boarding needs in Tempe? Look no further! WoofConnect offers the perfect answer, providing a loving and comfortable home-like environment for your furry friend. Say goodbye to impersonal kennels and hello to a unique boarding experience where your dog receives the same love and care as if they were at home with you. Discover how WoofConnect connects dog owners in Tempe, ensuring a delightful boarding experience for your beloved pet.
A Home Away From Home for Your Dog in Tempe
When it comes to vacation or a weekend getaway, leaving your dog behind can be a worrisome dilemma. Instead of settling for an impersonal dog boarding facility in Tempe, wouldn't it be wonderful to find a place where your dog feels at ease and cherished? WoofConnect is here to make that happen. We connect you with a fellow dog owner in Tempe who has a dog of the same breed and similar age, providing a match made in heaven. Your dogs can stay with each other during your vacations, creating a home away from home experience that truly works. In fact, many owners enjoy the arrangement so much that they even plan outings together, sharing the joy of dog ownership. Experience the ultimate dog boarding solution in Tempe with WoofConnect.
Connects Dog Owners in Tempe for a Perfect Boarding Match
Finding the right boarding solution can be challenging, but with WoofConnect, it becomes a breeze. We connect dog owners in Tempe with others who have dogs of the same breed or crossbreed and similar age. This ensures that your furry companions can communicate effectively, sharing the same language and energy. A perfect match leads to a harmonious boarding experience, where your dog receives the care and attention they deserve.
A Homely Environment with Loving Boarding for Your Dog
Say goodbye to the traditional, impersonal kennels and welcome the warmth of a home-like environment for your dog. At WoofConnect, we understand the importance of familiarity and comfort for your furry friend. That's why we connect you with a local sitter who is not only familiar with your dog's breed but also understands their energy levels. Your dog will feel at ease, surrounded by love and care, making their stay a delightful one.