WoofConnect Phoenix Dog Boarding – Unleash Your Dog's Happy Adventure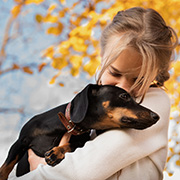 Because Vacations Should Be a Woof-tastic Time for Your Furry Friend!
Hey there, Phoenix pet parents! We know the dilemma all too well: what to do with your beloved doggo when you're off on a vacation? Leaving them in a cold, impersonal kennel just doesn't sit right with you. You want your furry best friend to have a comfortable, home-like environment where they'll be showered with love and care. That's where WoofConnect comes to the rescue! We're here to connect you with amazing folks right here in Phoenix who will treat your pup with the same adoration you do. It's all about creating a pawsome experience for your furry buddy, with a side of new friendships and tail-wagging adventures. WoofConnect is the ultimate dog boarding solution in Phoenix!
WoofConnect: Bringing Phoenix Dog Owners Together for Happy Tails Boarding
At WoofConnect, we're all about creating lasting bonds between dog owners in Phoenix. Picture this: finding a match with fellow dog lovers who have pups of the same breed, crossbreed, and age. It's like finding a playmate who speaks the same woof language! When dogs with similar traits and energy levels come together, it's a recipe for joyful moments. They'll chase balls, share belly rubs, and embark on exciting adventures together. It's tail-wagging bliss! The perfect match for boarding.
Loving Boarding in a Home-like Haven: Your Dog's Home Away From Home
No More Boring Kennels: Welcome to Doggy Paradise!
Say goodbye to those dreary kennels, my friend! At WoofConnect, we believe in providing a loving and home-like haven for your pup. We match them with sitters from your area who offer cozy boarding experiences that feel just like home. No cages, just comfy couches and snuggles galore! The sitters understand your dog's breed and energy, so they'll create a haven tailored to your pup's needs. It's a vacation paradise your furry friend will never want to leave!