WoofConnect: The Perfect Solution for Dog Boarding in Flagstaff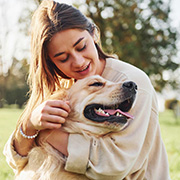 Say Goodbye to Impersonal Kennels and Hello to a Loving, Home-Like Environment for Your Furry Friend
Everyone who owns a dog often faces the same problem: what to do when you go on vacation or a weekend away? You'd rather not leave your dog, your best friend, in an impersonal boarding kennel in Flagstaff. When you're on vacation, you want your dog to have a place where they feel comfortable and at ease. Ideally, it should be someone's home where your dog will be treated with the same love and care as you give them. That's where WoofConnect comes in, connecting dog owners in Flagstaff to provide the perfect solution for dog boarding.
Connecting Dog Owners for the Best Boarding Experience
Find a Match with Owners in Flagstaff Who Share the Same Breed and Age
Finding the right boarding option for your dog can be a challenge. You want a place where your canine companion feels comfortable and safe, surrounded by people who truly understand their needs. That's where WoofConnect comes in. We connect dog owners in Flagstaff who have a dog of the same breed or crossbreed and age. Dogs who speak the same language and have the same energy level are always a good match.
A Home Away From Home for Your Beloved Dog
Loving Boarding for Your Dog in a Homely Environment – Your Dog's Home Away From Home
No cages, just loving boarding for your dog in a homely environment with a sitter from your area who is familiar with your dog's breed and energy. We believe that every dog deserves a loving boarding experience. That's why we provide a home-like environment for your furry friend. No more impersonal kennels or cold cages. Your dog will stay with a caring sitter from your neighborhood who understands their breed and energy level, making them feel right at home.