Free Dog Boarding in Westminster with WoofConnect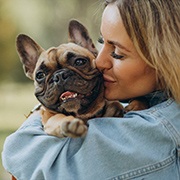 Are you a dog owner struggling to find suitable care for your furry friend when you go on vacation? While traditional dog kennels in Westminster may seem like an option, they come with their own set of drawbacks. Fortunately, WoofConnect offers a free alternative to expensive and crowded dog boarding facilities in Westminster. In this article, we'll explore everything you need to know about this app that connects you with local dog sitters.
Discover Free Dog Boarding Nearby with WoofConnect
With WoofConnect, finding free dog boarding near you has never been easier. All you need is the app, available for download on the Apple App Store or Google Play Store. Once you have it installed, create a profile for your dog and start searching for a reliable dog sitter in your area.
Connecting Dog Owners in Westminster for Quality Dog Boarding
WoofConnect connects dog owners in Westminster with each other, ensuring that your dog is matched with owners who have dogs of the same breed, crossbreed, and similar age. Dogs that share these traits often communicate effectively, making it a great match!