Discover Free Dog Boarding in Boulder with WoofConnect: Give Your Pup the Love They Deserve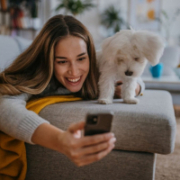 Don't let your furry friend miss out on the care and attention they need when you're away. WoofConnect has got your back!
Hey there, Boulder dog owners! We know how much your four-legged companions mean to you. They're more than just pets; they're family. But when life takes you away from home, finding reliable and affordable care for your pup can be a real challenge. That's where WoofConnect comes in to save the day! This incredible app connects you with local dog sitters who offer free boarding, ensuring that your furry friend receives the love and attention they deserve. Get ready to revolutionize the way you care for your dog in Boulder.
Find Local Dog Boarding with Ease: Connecting Dog Owners in Boulder
Searching for dog boarding options in Boulder has never been easier, thanks to WoofConnect. Forget the endless internet searches and worrying about your pup's well-being. Simply head over to the Apple App Store or Google Play Store, download the app, and open up a world of possibilities. Create a profile for your furry friend, and explore a network of dog sitters right in your own backyard. WoofConnect effortlessly connects dog owners in Boulder, ensuring that your furry family member receives the love, care, and attention they truly deserve.