WoofConnect Arvada: Free Loving Dog Care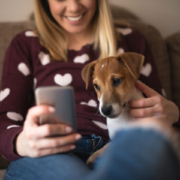 As a dog owner, arranging dog care while you're on vacation is not always straightforward. While a stay at a dog boarding facility in Arvada might seem like a suitable solution, it can come with its drawbacks. Fortunately, WoofConnect offers a free alternative to an expensive, bustling dog boarding facility in Arvada. Read on to find out all about this app that allows you to find a dog sitter right in your neighborhood.
Local Boarding Made Easy
With WoofConnect, finding free dog care in your neighborhood is simple. All you need is the app, available in the Apple App Store or Google Play Store. After creating a profile for your dog, you can start looking for a dog sitter near you.
WoofConnect Links Dog Owners in Arvada for Dog Boarding
Find a match with owners in your neighborhood who have a dog of the same breed/mix and age. These dogs speak the same 'language' and have the same energy level, making for a perfect match!