Discover Free and Loving Dog Boarding in Denver with WoofConnect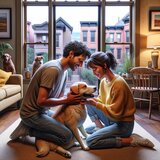 If you're looking for the best dog boarding in Denver, WoofConnect is here to end your search. Say goodbye to expensive and impersonal pet boarding facilities. WoofConnect offers a free, loving overnight boarding service that ensures your furry family member feels right at home, making sure your dog gets the best care while you're away.
WoofConnect: Denver's Answer to Local, Best-in-Class Dog Boarding
In Denver, WoofConnect is transforming dog care services, making it easy for pet owners near Denver to find the perfect dog sitter. Our app, available on both the Apple App Store and Google Play Store, connects you with dog sitters who offer dog home boarding. This is pet care redefined in the Denver metro area, with a focus on breed-specific needs and individual dog care.
Forming Furry Friendships: The Mile High City's Premier Pet Community
WoofConnect is more than an app; it's a Denver-based community dedicated to ensuring every dog receives top-notch care. We help owners in Denver find local dog lovers, facilitating connections that turn into lifelong friendships. Your dog will have fun-filled days and meet new friends, enjoying playtime and personalized attention.
WoofConnect: A Paradigm Shift in Dog Boarding
Move over, private boarding facilities! WoofConnect offers pet boarding that's all about comfort and personalized attention. This innovative service in the Denver area allows your dog to stay in a private home, ensuring they receive the best care, away from the cramped confines of traditional kennels.