Free Dog Boarding in Loveland with WoofConnect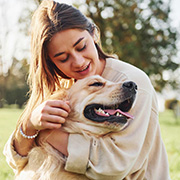 The Struggle of Finding Reliable Dog Boarding
As a dog owner, arranging for reliable and safe dog boarding when you're away can be an uphill task. Opting for a dog kennel in Loveland might seem like a good solution, but it has its drawbacks. But fret not, WoofConnect comes to the rescue, offering a free alternative to costly and crowded dog kennels in Loveland. This page will guide you through this remarkable app, which helps you find a suitable dog boarding service in your locality.
Localized Boarding with WoofConnect
WoofConnect simplifies your search for free local dog boarding. All you need is the app, available for download from the Apple App Store or Google Play Store. After creating a boarding profile for your dog, you can start your search for a local dog sitter.
Connecting Loveland Dog Owners for Dog Boarding
Discover a match with dog owners in your vicinity who own dogs of the same breed/mix and age. These dogs communicate in the same 'language' and share the same energy level. A match made in heaven!