Free Dog Boarding in Colorado Springs: WoofConnect's Revolutionary Approach to Pet Care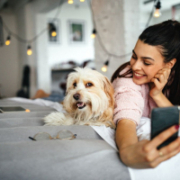 In the scenic city of Colorado Springs, a groundbreaking initiative is reshaping the way we think about dog boarding. Gone are the days of traditional kennels with their impersonal touch and one-size-fits-all approach. Enter WoofConnect, a trailblazing mobile app that's turning heads and wagging tails across the community. It's more than just an app; it's a movement, a paradigm shift in pet care that speaks directly to the hearts of dog lovers everywhere.
Revolutionizing Dog Boarding: A Closer Look at WoofConnect
WoofConnect isn't your average dog boarding solution. It's a game-changer, a digital bridge connecting dog owners with a network of passionate, local pet caregivers. The process is as simple as it is innovative: download WoofConnect from the Apple App Store or Google Play Store, and with a few taps, you're on your way to finding the ideal sitter for your furry friend. And the best part? This premium service is entirely free.
Building a Community of Dog Lovers in Colorado Springs: The Socialization Edge
Imagine a platform that not only takes care of your dog's physical needs but also nurtures their social well-being. WoofConnect fosters a vibrant community of dog enthusiasts in Colorado Springs, promoting interaction and socialization. It's like a social network for our four-legged friends, where matching breeds, ages, and temperaments is just the beginning of forming lasting furry friendships.