Ontario Dog Boarding: WoofConnect, Your Pooch's Home Away from Home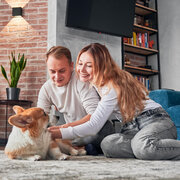 As a dedicated dog parent in Ontario, you've likely faced the challenge of finding just the right place for your cherished furry companion when you're away. Conventional kennels can sometimes feel impersonal and lack the warmth and attentiveness your beloved pet deserves. WoofConnect comes to the rescue – an innovative solution aimed at transforming dog boarding in Ontario. Our objective is to offer unparalleled care in a homely environment, connecting you with kind-hearted individuals who regard your dog as their own. It's time to say goodbye to standard kennels and welcome an individualized, compassionate experience that will have your dog's tail wagging in sheer delight.
Tailor-Made Boarding Experiences: Connecting Dog Owners in Ontario
At WoofConnect, we firmly believe in the power of connection. We understand that dogs thrive in the presence of compatible companions. Guided by this understanding, we connect dog owners in Ontario, matching them with fellow dog enthusiasts who have similar breed types, age groups, and energy levels. By curating these unique boarding experiences, we ensure that your dog feels entirely at home with their boarding partner. Our community thrives on trust, empathy, and a shared love for our four-legged friends. Together, we can provide superior care for our treasured canines.
Beyond Basic Boarding: A Heartwarming Home Environment
Choosing WoofConnect translates to opting for a boarding experience that is second to none. Long gone are the days of dreary kennels and lonely evenings. Our sitters are passionate individuals who understand your dog's breed and energy, offering personalized care and attention. Your dog can look forward to daily walks, fun playtime, and an abundance of cuddles. We are committed to turning their stay into a genuine home away from home, ensuring their joy and wellbeing during their time with the sitter.
Affordable Dog Boarding: Superior Care Without Breaking the Bank
We strongly believe that premium care shouldn't put a dent in your wallet. Traditional kennels in Ontario can be rather costly, with daily rates varying from $40 to $60. But with WoofConnect, you can access affordable dog boarding without compromising the standard of care your pet receives. Our community-oriented approach allows you to connect with fellow dog owners, proposing mutual free boarding for each other's pets during vacation periods. This sharing of responsibilities results in substantial savings on boarding costs, giving you peace of mind, knowing your pet is in the loving care of a fellow dog enthusiast of the same breed.