Welcome to WoofConnect: Elevating the Dog Boarding Experience in Oakville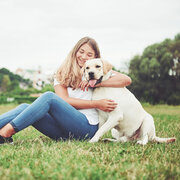 The city of Oakville, renowned for its rich history and picturesque landscapes, offers a delightful lifestyle for its residents. Amid the charming milieu of this city, dog owners often confront the challenge of finding suitable care for their beloved pets when they have to be away. Traditional kennels, although dependable, may not offer the home-like comfort and companionship that your pet craves. This is where WoofConnect comes into play – a groundbreaking platform designed to transform dog boarding in Oakville, delivering superior care in a warm, home-like atmosphere.
WoofConnect: Creating a Vibrant Network of Dog Owners in Oakville
At the heart of WoofConnect lies a deep appreciation for the extraordinary bond between dogs and their human companions. We acknowledge that dogs prosper best amongst individuals who understand their unique personalities and energy levels. With this insight, we have built a platform that connects dog owners in Oakville with others who own dogs of similar breeds, ages, and energy levels. The outcome is a custom-tailored boarding experience that ensures your pet feels at home while fostering connections with new canine friends.
High-Quality Dog Boarding in Oakville: Superior Service at Affordable Rates
In Oakville, traditional kennels typically charge daily rates between $70 to $90, amounting to a considerable $490 to $630 for a week's stay. WoofConnect, however, stands firm on the belief that top-notch pet care should not be a financial burden. By endorsing a community-based model, we are revolutionizing the dog boarding landscape. WoofConnect enables you to engage with fellow dog owners, leading to shared boarding responsibilities during vacations or business trips. This strategy substantially reduces pet care costs while ensuring your pet is in compassionate and trustworthy hands.
Breed and Energy Recognition: Crafting Perfect Matches
Every dog breed possesses unique traits and energy levels. At WoofConnect, we prioritize these factors, facilitating matches between dogs of similar breeds. This emphasis on compatibility assures a positive and satisfying boarding experience for your pet. The dog owners in our network understand the intricacies of various breeds, ensuring a seamless transition for your pet from their familiar home environment to the temporary care setting.