Unveiling Oshawa's Pioneering Dog Boarding Solution: WoofConnect – Your Furry Friend's Second Home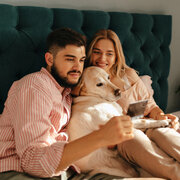 Moving Beyond Traditional Kennels: A Warm Embrace of Affectionate Care in Oshawa
Have you ever felt the cloud of dread that descends as you plan your vacation, knowing you'll need to leave your beloved pet behind? The daunting prospect of your cherished companion spending time in an impersonal kennel can certainly dampen the holiday spirit. Fear not, dog owners, for WoofConnect has arrived in your city, ready to revolutionize your dog boarding experience in Oshawa.
WoofConnect is not merely a dog boarding service; it's an initiative that transforms pet care into an affectionate community of like-minded dog lovers. We link you with Oshawa's dog owners who are ready to participate in a mutually beneficial arrangement, providing care for your pets while you're away, and vice versa. Imagine a dog boarding solution where your furry friend isn't just looked after but is lovingly pampered in a home-like setting.
Building Bridges Among Dog Owners in Oshawa: Fostering Perfect Canine Companionships
WoofConnect champions the art of the perfect match. We're not just an Oshawa dog boarding service; we're a conduit for lasting friendships between dogs and their owners. By matching dogs of the same or mixed breed and of a similar age, we cultivate an environment where your pet can enjoy the company of like-minded playmates, adding a layer of joy to their boarding experience.
We believe that dog boarding should extend beyond mere provision of shelter to creating spaces where dogs feel loved and cared for. This philosophy is what sets WoofConnect apart. Say goodbye to the detached experience of traditional kennels and welcome a fresh, caring approach to dog boarding with WoofConnect.
WoofConnect: Affordable and Loving Dog Boarding in Oshawa
As we all know, traditional kennels can dig a hole in your pocket, with daily boarding rates ranging from $25 to $45. This means you could end up spending a staggering $200 to $300 for just a week-long stay. Now, imagine a world where your dog gets the best care, a loving home environment, all for free. Yes, WoofConnect brings you this world!
We offer Oshawa's dog owners an economical yet enriching alternative to costly kennels. By facilitating a reciprocal pet care arrangement, WoofConnect allows you to ensure that your dog receives top-notch care without any monetary concerns. It's an unparalleled win-win solution for both you and your pet.