Guelph's Free Dog Boarding: Crafting a Second Home for Your Beloved Canine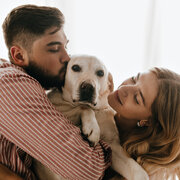 Adios Kennels, Hola Personalized Care: Guelph Welcomes Your Dogs to a Home-Like Retreat
Ever grappled with that predicament that surfaces every time you plan a getaway? Where to safely tuck away your faithful fur friend? The thought of committing your precious pet to an impersonal kennel in Guelph might seem unsettling. You yearn for a haven that feels like home, offering warmth, love, and affection. Cue WoofConnect – the solution to this age-old problem. We link you with a devoted dog lover right here in Guelph who, just like you, wants the best for their pet of the same breed and similar age. This arrangement allows you both to care for each other's pets during your respective trips. Our track record has proven this model to be remarkably effective! Pet owners frequently find themselves organizing extra social meet-ups, like weekend visits or day excursions. When you have dogs of the same breed and energy, it's an extraordinary match! If you're in Guelph, WoofConnect is your trusted companion for dog boarding in Guelph.
Creating Connections Among Dog Owners in Guelph: Discover Your Perfect Match
A Match Made in Canine Heaven: Dogs of the Same Breed, Crossbreed, and Age
WoofConnect fully comprehends the essence of a perfect match. That's why we bring together dog owners in Guelph who have dogs of the same breed or crossbreed and similar age. It's like stumbling upon a soulmate who speaks your furry buddy's language and matches their energy levels. And let us assure you, it's a guaranteed recipe for success! When your dog stays with a sitter who understands their breed and vitality, they will feel right at home, soaking in the love and care they deserve. It's time to wave goodbye to the traditional kennel experience and say hello to our comfortable, home-like boarding solution.
Experience Affectionate Boarding in a Homey Environment: Your Dog's Home Away from Home
WoofConnect: Revolutionizing Boarding Experience, Sans Kennels
Imagine a boarding experience devoid of cold, impersonal kennels. Instead, your furball gets to enjoy a homey environment with a dedicated sitter from your own Guelph neighborhood. These sitters, familiar with various dog breeds, cater to their unique needs. Your dog will be in the comforting hands of someone who genuinely cares, ensuring they have a pleasant and joyful stay. At WoofConnect, we staunchly believe that every dog deserves a sanctuary away from home, and we strive relentlessly to make this vision a reality.