Toronto's Premier Dog Boarding: Fostering a Home Away From Home for Your Canine Companion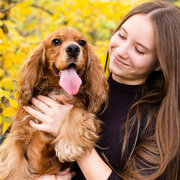 Swapping Impersonal Kennels for Personalized Care: Welcoming Your Dogs to a Homey Haven in Toronto
Worried about what to do with your pet dog when you travel? Not fond of the idea of a cold, distant dog kennel in Toronto? You want a place that will give your pooch all the comforts and affection they get at home. Well, look no further! WoofConnect is here to save the day! We specialize in connecting you with another dog lover in Toronto who adores dogs from the same breed and age group as yours and upholds the same high standards for pet care. It's a win-win: you both look after each other's dogs when vacation time rolls around. Our experience tells us this approach is fantastic! Pet owners often plan extra meetups, like playtime on weekends or daytime adventures. Matching dogs with similar breeds and energy levels means they're sure to get along famously! In Toronto, WoofConnect is a name you can rely on for dog-sitting.
Connecting Toronto's Dog Owners for Boarding: Find Your Perfect Match
Finding the Right Fit: Similar Breeds and Age Groups
At WoofConnect, finding the perfect companion for your dog is something we take very seriously. We help dog owners in Toronto meet others with similar breeds or mixed breeds, and dogs that are about the same age. Imagine finding another dog that "gets" your dog – someone who understands their barks and has the same zest for life. This approach really works wonders! When your dog stays with a sitter who gets their unique breed traits and has the right energy vibe, they'll be super relaxed and well taken care of. Say farewell to the old cold kennel vibe and hello to our warm, friendly dog boarding alternative.
Free Alternative
Picture a pet boarding experience without any cages — a place where your beloved pet is treated like family by a caring individual from your own community in Toronto. These pet sitters are skilled at recognizing the unique needs of different dog breeds and provide personalized care. Your pet will be loved and looked after by someone who truly has their wellbeing at heart, ensuring they have a pleasant and comfortable time. At WoofConnect, we're dedicated to giving every dog a second home while you're away, and we work hard to make a reality.