Discover WoofConnect: A New Paradigm for Dog Boarding in Mississauga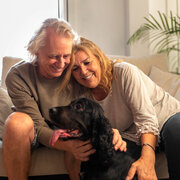 Mississauga, a city renowned for its harmonious blend of urban bustle and idyllic serenity, is also a thriving hub for dog owners. Nestled in the heart of the Greater Toronto Area, Mississauga boasts a diverse community of pet owners who often grapple with the challenge of ensuring their canine companions receive the best possible care in their absence. Traditional kennels have long been the go-to solution, albeit one that often lacks the warmth and familiarity dogs need to thrive. WoofConnect is here to challenge the status quo and redefine the dog boarding landscape in Mississauga, fostering a community where dogs can experience care akin to the love and comfort of their own homes.
WoofConnect: Building Bridges for a Robust Dog Owner Network in Mississauga
At the core of WoofConnect lies a deep-seated understanding of the bond between dogs and their human families. Dogs are not just pets; they are cherished members of our families who deserve the best care possible. Recognizing this, WoofConnect is designed as a platform that connects dog owners in Mississauga with other dog owners who possess the same breed of dogs, thereby ensuring compatibility and shared interests. This approach is integral to providing a boarding experience that is comforting, enjoyable, and customized to suit your pet's individual needs.
Cost-Effective Dog Boarding in Mississauga: Unparalleled Quality

The prevailing cost of traditional kennel boarding services in Mississauga typically ranges between $60 to $80 per day. This equates to a substantial $420 to $560 for a week's boarding, posing a considerable expense for many families. WoofConnect challenges this exorbitant pricing structure by proposing an innovative, community-based model that dramatically reduces the financial burden of dog boarding. By facilitating connections between fellow dog owners in Mississauga, we endorse a system of mutual exchange of boarding responsibilities during your travels or work commitments, thereby significantly cutting costs while ensuring your pet's care remains uncompromised.