A Home Away From Home: Revolutionizing Dog Boarding in Hamilton with WoofConnect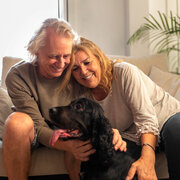 Replace Cold Kennels with Warm Care: Hamilton's Tailored Solution for Your Dog's Boarding Needs
Every pet parent has faced the predicament when planning a trip — where will you leave your canine companion? The standard dog kennels in Hamilton may not provide the warmth and familiarity your fur baby craves, leaving you feeling less than assured. Enter WoofConnect, a service that is a game-changer in the world of dog boarding. We act as the missing link between you and another dog owner in Hamilton who shares a love for the same breed and has a pet of similar age. The proposal? You both look after each other's pets while you are away on your respective trips. This arrangement has proved to be so successful that many dog parents have taken to planning more social gatherings, such as day trips or weekend visits, together. If you are a resident of Hamilton, WoofConnect is just the platform for all your dog boarding needs.
Breed-Based Dog Owners' Connection in Hamilton: The Art of Perfect Matching
Ensuring Harmonious Bonds: The Impact of Same Breed and Age in Dog Companionship
At WoofConnect, we value the essence of a perfect match. We bring together dog owners in Hamilton who have dogs of the same breed or crossbreed and are of a similar age. It's akin to finding a confidant who comprehends your dog's language and mirrors their energy levels. Trust us when we say that this is the winning formula for compatibility! When your dog stays with a sitter who knows their breed and matches their energy, they are comforted and cherished as they deserve. So, it's time to bid adieu to the traditional kennel experience and embrace our comfortable, home-like boarding alternative.
Innovation in Dog Boarding: No More Kennels, Just Loving Homes
Home Away From Home: Transforming the Dog Boarding Experience in Hamilton
Envision a boarding experience devoid of the cold, impersonal kennels. Instead, your dog is invited into a warm, homely environment with a dedicated pet sitter from your own Hamilton community. These sitters, with their nuanced understanding of various dog breeds and their distinct needs, are the epitome of personalized care. Your dog will be under the attentive care of someone who genuinely understands and loves them, guaranteeing a comfortable and enjoyable stay. WoofConnect operates under the belief that every dog deserves a home away from home, and we strive tirelessly to make that a reality for every pet in our care.