Dog Boarding Reimagined in London, Ontario: WoofConnect's Transformative Approach to Pet Care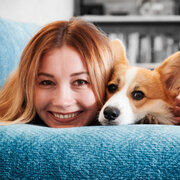 Goodbye Traditional Kennels, Hello WoofConnect: Revolutionizing Dog Boarding in London
Are you a dog parent faced with the conundrum of where to safely leave your fur baby during your vacations? You may be weary of the conventional, impersonal kennels in London, Ontario, seeking a more affectionate and understanding environment for your cherished companion. WoofConnect steps in to address this very concern. We help you find a loving pet owner in London, who owns a dog of the same breed and approximate age as your dog, and is equally in need of a caring home for their pet during their vacations. This mutual exchange has been so successful that many owners find themselves planning additional get-togethers, from weekend play dates to day trips. If you reside in London, WoofConnect is your trusted answer to all dog boarding concerns.
Breeding Affinity Amongst Dog Owners in London, Ontario
Creating Perfect Matches: Uniting Dogs of Same Breeds, Ages, and Energy Levels
At WoofConnect, we understand the magic of an ideal match. That's why we help dog owners in London who have dogs of the same breed, crossbreed, or similar age connect with each other. The connection is like finding a playmate for your dog who speaks their language and matches their vigor. When your dog stays with a host who comprehends their breed's unique traits and their energy, they will feel right at home, basking in the love and attention they deserve. This is why we encourage you to say goodbye to traditional kennels and welcome our homely boarding solution.
A Familiar Environment for Your Dog's Boarding: No More Kennels
Experience the WoofConnect Difference: Comfortable Dog Boarding in London, Ontario
Imagine a dog boarding scenario where kennels are a thing of the past. Instead, your dog gets to enjoy a homely environment with a dedicated sitter from your neighborhood in London. These hosts understand the different needs of various dog breeds and ensure your dog receives the love and attention they deserve. WoofConnect believes that every dog is entitled to a home away from home, and we are dedicated to bringing this vision to life.