Revolutionizing Dog Boarding in Raleigh: Experience the WoofConnect Difference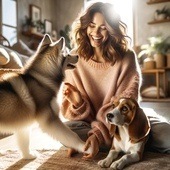 In the vibrant city of Raleigh, a new era of dog boarding is dawning, courtesy of WoofConnect. This innovative platform is reimagining pet care, transforming the boarding experience into something more akin to a delightful vacation for your furry friends. Let's delve into this groundbreaking approach to dog boarding and uncover why WoofConnect is the talk of the town among Raleigh's dog-loving community.
WoofConnect Raleigh: A Game Changer in Dog Boarding Services
WoofConnect isn't just an app; it's a revolution in the world of dog boarding. Gone are the days of conventional kennels with their one-size-fits-all approach. WoofConnect ushers in a new wave of doggy day care, focusing on personalized, home-style boarding that caters to the unique needs of each pup. This app, available on both Apple App Store and Google Play Store, connects dog owners in Raleigh with a network of passionate and experienced pet sitters, ensuring your canine companion enjoys a staycation as enjoyable as your vacation.
Building a Community of Dog Lovers in Raleigh, NC
One of the most remarkable aspects of WoofConnect is its community-building prowess. The app isn't just about finding a place to board your pet; it's about creating connections. Raleigh dog owners can link up with like-minded individuals, ensuring their pups spend time with compatible playmates. This focus on community fosters a supportive network for pet owners and a fun environment for their dogs.