Asheville Dog Boarding: A Haven of Love and Care for Your Dog with WoofConnect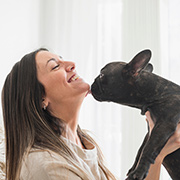 Planning a vacation is an exciting time, but it often comes with a dilemma for dog owners in Asheville: What to do with your beloved canine companion while you're away? The thought of leaving them in unfamiliar surroundings or impersonal kennels can be distressing. You want your furry friend to be surrounded by love, care, and comfort, just as they are at home. At WoofConnect, we understand your concerns, and we're here to provide the perfect solution. We connect you with compassionate individuals right here in Asheville who not only have a deep love for dogs but also treat them as part of their own family. With WoofConnect, you can leave your worries behind and embrace the knowledge that your furry friend will be in the most caring and capable hands.
Unparalleled Connections: Matched for a Tailored Experience
Finding the Perfect Match: Dogs with Similar Breeds, Crossbreeds, and Ages
At WoofConnect, we believe that the key to a successful boarding experience lies in finding the perfect match. That's why we carefully connect dog owners in Asheville based on their dogs' breed, crossbreed, and age. We understand that dogs have unique personalities, needs, and energy levels. By finding a match that aligns with these characteristics, we ensure a tailored experience for your furry friend. When your dog stays with a sitter who understands their breed and energy, they'll feel right at home, surrounded by familiarity and love. Our goal is to create lasting connections that go beyond mere dog-sitting, building relationships that bring joy and peace of mind to both dogs and their owners.
A Loving Home Away From Home: Redefining Dog Boarding in Asheville
No More Kennels: Embrace the Warmth of a Homely Environment
Imagine a boarding experience where your dog isn't confined to a cold and impersonal kennel, but rather welcomed into a warm and loving home environment. At WoofConnect, we prioritize the well-being and happiness of your furry friend. Our network of sitters in Asheville opens their hearts and homes to provide a safe, cozy, and comfortable haven for your dog. Whether it's snuggling on the couch, playing in the backyard, or going for leisurely walks in the beautiful Asheville surroundings, your dog will experience the comforts of home. We understand that dogs thrive when they feel secure and loved, and that's exactly what the sitters provide – a true home away from home.