Woof-tastic Free Dog Boarding in Chapel Hill: Your Dog's Home Away From Home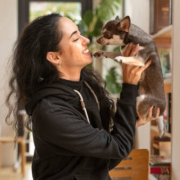 Hey there, dog owners of Chapel Hill! We know how heartbreaking it can be to leave your furry best friend behind when you go on vacation. The last thing you want is to stick them in some cold, impersonal kennel. That's where WoofConnect comes in to save the day! We've got just the solution to make your pup's time away from home a tail-wagging adventure. We connect you with dog-loving folks right here in Chapel Hill who will give your fur baby the same love and care they're used to. It's like a vacation playdate for your doggo, where they'll have a blast and make new friends. WoofConnect is the ultimate dog boarding solution in Chapel Hill!
WoofConnect: Bringing Dog Owners Together for Pawesome Boarding
Find the Perfect Match for Your Pup
At WoofConnect, we're all about making magic happen. We connect dog owners in Chapel Hill with others who have pups of the same breed, crossbreed, and age. It's like finding a playdate soulmate for your furry friend! When dogs with similar characteristics and energy levels come together, it's a recipe for canine bliss. They'll have a common language, get each other's quirks, and have a tail-wagging good time. WoofConnect brings dog owners together, ensuring that your pup has a paw-some buddy during their boarding adventure.
Loving Boarding in a Homey Environment: A Bark-tastic Retreat
No More Boring Kennels!
Forget about those boring kennels, my friend. WoofConnect offers dog boarding in a homely environment where your pup will feel right at home. The dog owners in Chapel Hill open their doors and hearts to give your fur baby a cozy and comfortable retreat. They'll have all the creature comforts they're used to, like snuggling up on a soft couch or playing in a spacious backyard. Thesitters are familiar with different breeds and energy levels, so they know just how to make your pup's stay a tail-wagging adventure. It's like a vacation paradise for your furry friend!