WoofConnect Greensboro: Your Best Pick for Free, Cozy Dog Boarding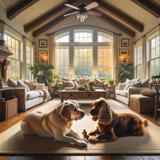 When it's time for a vacation, the most important thing is that your dog stays somewhere safe and full of love. You may think of asking friends or family to dog-sit first, but this option might not always work out. Many dog owners in Greensboro might not like using regular dog kennels because they are too full, and there's a chance of sickness and getting hurt. That's where WoofConnect comes in – an excellent, free choice that gives cozy dog boarding right in Greensboro. Skilled dog sitters look after your furry pal in their own homes, which means your dog has a fun break just like you!
Feel the Warmth of a Cozy Home Environment
WoofConnect offers dog sitting in Greensboro that gives your pet special care and the warmth of a home setting. Our app service lets your pooch stay in a place that feels just like home, helping them feel less stressed by changes. Usual dog kennels or boarding places in Greensboro might scare lots of dogs with all the noise and crowd. Dogs that get nervous easily might not like their stay much. But when a pet sitter takes care of them in a house, they can give more one-on-one time and focus to your tail-wagger, so you can relax. Your pet has a joyful time while you're enjoying your vacation.
Bringing Dog Owners Together in Greensboro
WoofConnect is all about bringing together dog owners in Greensboro for boarding. You can find someone whose dog is the same breed/mix and similar age as yours. These pups get each other and have the same amount of zip – creating the perfect pairing every single time!