Free Dog Boarding in Wilmington: Your Pet's Home Away From Home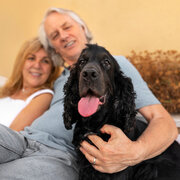 As a proud dog owner in Wilmington, you understand the challenge of finding the perfect care for your beloved furry companion when you're away. Traditional kennels can be impersonal and fail to provide the love and attention your dog deserves. That's why WoofConnect is here to revolutionize dog boarding in Wilmington. Our mission is to offer exceptional care in a home-like environment, connecting you with caring individuals who treat your dog as their own. Say goodbye to kennels and hello to a personalized, loving experience that will leave your dog's tail wagging with joy.
Connecting Dog Owners in Wilmington: Tailored Boarding Experiences
At WoofConnect, we believe in the power of connection. We understand that dogs thrive when they are surrounded by like-minded companions. That's why we connect dog owners in Wilmington, matching them with fellow dog lovers who have similar breeds, ages, and energies. By creating these tailored boarding experiences, we ensure that your dog feels right at home with their boarding companion. Our community is built on trust, compassion, and a shared love for our furry friends. Together, we can provide the best possible care for our beloved dogs.
Boarding in a Loving Environment: Your Dog's Comfort is The Priority
When you choose WoofConnect, you're choosing a boarding experience like no other. Gone are the days of cold kennels and lonely nights. The sitters are passionate individuals who understand your dog's breed and energy, offering personalized attention and care. Your dog will enjoy daily walks, playtime, and plenty of cuddles. We strive to make their stay a true home away from home, ensuring their happiness and well-being throughout their time with the sitter.