High Point Dog Boarding: Providing Your Beloved Dog with a Home-like Haven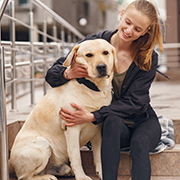 Say Goodbye to Impersonal Kennels and Hello to Loving Care
Are you one of those dog owners who face a common dilemma every time you plan a vacation? What do you do with your furry friend while you're away? Leaving your beloved companion in an impersonal kennel in High Point just doesn't sit right with you. You want your dog to feel comfortable and at ease, as if they were at home. You want them to receive the same love and care they're accustomed to. Well, fret no more, because WoofConnect is here to solve this very problem for you! We connect you with a caring individual right here in High Point, someone who not only has a dog of the same breed and similar age but is also seeking the same care. It's a mutually beneficial arrangement where you both look after each other's dogs during your respective vacations. And you know what? Our experience has shown that it works so well that owners often end up making plans to spend even more time together, like weekends or day outings. When you have dogs of the same breed with the same energy, it's always a fantastic match! So, if you're in High Point, WoofConnect is your go-to dog boarding solution.
Connecting Dog Owners in High Point for Boarding
Find the Perfect Match: Dogs with the Same Breed, Crossbreed, and Age
At WoofConnect, we understand the value of a great match. That's why we connect dog owners in High Point who have dogs of the same breed or crossbreed and similar age. It's like finding a playmate who speaks the same language as your furry friend and shares their energy levels. And let me tell you, that's always a recipe for success! When your dog stays with a sitter who understands their breed and energy, they'll feel right at home, receiving the love and attention they deserve. So, say goodbye to the traditional kennel experience and embrace our home-like boarding solution.
Loving Boarding in a Homely Environment: Your Dog's Home Away From Home
No More Kennels: Experience the Difference with WoofConnect
Imagine a boarding experience where there are no kennels in sight. Instead, your dog gets to enjoy a homely environment with a dedicated sitter from your own neighborhood. The sitters are familiar with various dog breeds and understand their specific needs. Your dog will be in the hands of someone who truly cares, ensuring they have a comfortable and enjoyable stay. At WoofConnect, we believe that every dog deserves a home away from home, and we strive to make that a reality.