WoofConnect Dog Boarding Jacksonville: Where Your Beloved Companion Finds Love and Comfort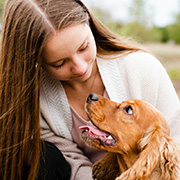 Leaving Your Furry Friend Behind is Heartbreaking
Planning a vacation should be a time of joy and relaxation, but for dog owners in Jacksonville, it often comes with a heavy heart. The thought of leaving your beloved canine companion behind is enough to bring tears to your eyes. You can't bear the idea of them feeling lonely, scared, or unloved in a cold, impersonal kennel. After all, your furry friend deserves the same love and care they receive at home. That's why WoofConnect is here to offer you a lifeline. We understand the emotional turmoil you face, and we're dedicated to connecting you with compassionate individuals right here in Jacksonville who will shower your dog with the love and comfort they deserve. With WoofConnect, you can leave your worries behind and embrace the knowledge that your beloved companion will be in the most caring and capable hands.
WoofConnect Connects Dog Owners in Jacksonville for Boarding

A Match Made in Doggy Heaven: Dogs with Similar Breeds, Crossbreeds, and Ages
At WoofConnect, we believe in the power of soulful connections. That's why we carefully match dog owners in Jacksonville based on their dogs' breed, crossbreed, and age. We understand that dogs have their own unique personalities, needs, and energy levels. By finding a perfect match that aligns with these qualities, we ensure a tailored and harmonious experience for your furry friend. Picture your dog spending time with a sitter who truly understands their breed and energy, creating an instant bond that transcends words. It's a connection that brings joy and comfort, where tails wag and hearts leap with excitement. With WoofConnect, your beloved companion will experience a level of care that feels like they never left home.
A Loving Home Away From Home: Redefining Dog Boarding in Jacksonville
No More Tears: Embrace a Warm, Home-like Environment
Say goodbye to the heart-wrenching goodbyes at cold, sterile kennels. At WoofConnect, we believe that your dog deserves a loving home away from home while you're away. Our network of sitters in Jacksonville opens their hearts and homes to provide a safe, cozy, and nurturing environment for your furry friend. Picture your dog curling up on a soft couch, basking in the warm sunbeam that streams through the window, or exploring a beautiful backyard filled with scents of nature. These are the experiences that make tails wag and hearts full. We understand that dogs thrive when they feel secure, loved, and part of a family. With WoofConnect, you can rest assured that your dog will receive the personalized attention, affection, and comfort they need during their time apart from you.