WoofConnect: Your Go-To for Free Dog Boarding in Memphis, TN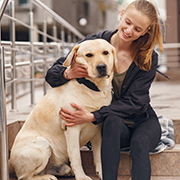 Embarking on a vacation brings excitement, but it often means leaving your furry friend behind. In Memphis, TN, where bringing pets along isn't always feasible, WoofConnect emerges as a beacon of hope. This innovative platform transcends the traditional concept of dog boarding in Memphis, offering a unique, free solution for dog owners.
Transforming Pet Boarding in Memphis
WoofConnect reimagines the dog boarding experience. Forget the conventional kennel facilities in Memphis that could lead to your pup feeling overwhelmed or stressed. WoofConnect's services in Memphis connect you with local dog lovers who provide a home away from home for your beloved pet. These compassionate caregivers are adept at understanding your dog's breed, energy level, and individual needs, ensuring a personalized and nurturing boarding stay.
The Perks of Choosing WoofConnect in Memphis
Why opt for overnight boarding in a crowded facility when WoofConnect offers a serene, homely environment? Your pet's stay with WoofConnect in East Memphis or other neighborhoods is not just a boarding service; it's a chance for your pup to enjoy a vacation of its own. The caregivers are committed to keeping your pet healthy and happy, offering a range of services, including medical care if your pet requires it, and ensuring they remain comfortable and content during their boarding stay.