Discover Free Dog Boarding in Loving Homes with WoofConnect Hendersonville (TN)
Experience the Benefits of Home-Based Dog Boarding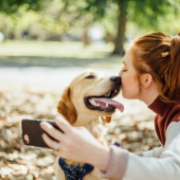 If you're planning a trip and looking for a trustworthy dog boarding facility in Hendersonville, Tennessee, WoofConnect is the answer! This incredible alternative provides free dog boarding in a warm, home-like environment where your furry companion can enjoy personalized care and stick to their regular routine. Countless dog owners choose this type of boarding over traditional dog kennels in Hendersonville because it's safer and less stressful for their cherished pets. With WoofConnect, all you need to do is download the app and effortlessly find the ideal home for your dog while you're away.
Connecting Dog Owners for the Perfect Home-Based Boarding Experience
WoofConnect brings dog owners together to find the perfect match for home-based dog boarding. Discover nearby owners with dogs of the same breed and age, ensuring a great fit since they "speak" the same language and share similar energy levels.
Say Goodbye to Pricey Dog Kennels
Why spend up to $50 a day at a Hendersonville dog kennel when you can enjoy free, loving home-based dog boarding with WoofConnect? A week-long stay at a kennel can cost between $250 and $350, while a personal dog sitter may charge even more. Save yourself and your dog the trouble by signing up for WoofConnect and securing a safe, comfortable home for your furry friend.