WoofConnect: Free Dog Boarding in Knoxville with a Loving Home-Based Sitter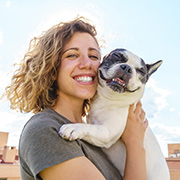 Embarking on a vacation can pose difficulties when a cherished canine companion remains at home. Whether one is traveling by air or merely spending an extended period away, securing a dependable dog boarding alternative in close proximity can prove challenging. Although entrusting a family member or friend with one's pet would be ideal, this option is not always feasible. Rather than resorting to a kennel in Knoxville, consider WoofConnect for your forthcoming holiday.
WoofConnect presents an opportunity to discover free boarding solutions nearby, where dogs can reside in a comfortable, home-like setting under the care of a knowledgeable sitter who comprehends the specific breed and energy level of your dog. Your four-legged friend will receive individualized attention, and you can enjoy your well-deserved respite with the assurance that your furry friend is in capable hands.
Drawbacks of Dog Kennels
If you don't have family or friends who can look after your dog during your vacation, a kennel may seem like the best option. However, dog kennels come with several drawbacks that make it difficult for dog owners to leave their pets there. Kennels often house many dogs at once, and some dogs, particularly those who are easily frightened, may find this overwhelming. In addition, the risk of illness is higher in larger groups of dogs, and unfamiliar food may not agree with all dogs. Finally, kennels follow their own routines, and it's not always possible for your dog to be taken for a walk in the evening or let out at their usual times.