WoofConnect, your furry friend can enjoy free and caring in-home dog boarding in Chattanooga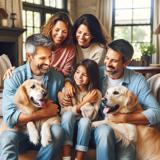 Looking for a caring and loving home for your furry friend while you go on vacation? Look no further than WoofConnect! With our app, you can find free dog sitters in Chattanooga (TN) who offer personalized attention and a comfortable home environment for your pet. WoofConnect connects local dog owners for dog boarding in Chattanooga.
Skip the downsides of traditional dog boarding facilities, like crowded kennels and unfamiliar food. At WoofConnect, your dog will be staying in a cozy home environment with an experienced caregiver who knows their breed and energy level. Your four-legged friend will receive personalized care and attention while you enjoy a much-needed vacation.