Experience Free Dog Boarding in Collierville with WoofConnect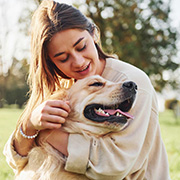 Do you want to take a trip but you're unsure where to board your furry friend in Collierville, Tennessee? Your search is over with WoofConnect! The app offers an amazing alternative to traditional dog kennels, providing free dog boarding in a comfortable, home-like environment where your pet can enjoy personalized care and stick to their regular routine.
Why Choose Home-Based Dog Boarding with WoofConnect?
Home-based dog boarding is becoming increasingly popular among dog owners who want a more comfortable and personalized experience for their furry friends. With WoofConnect, your dog can enjoy all the benefits of home-based dog boarding, including:
A comfortable and familiar environment that reduces stress and anxiety for your pet.
Personalized care that caters to your dog's specific needs and routine.
The ability to bring your own dog food, ensuring your pet won't have to compromise on their diet.
Greater flexibility in scheduling walks, feedings, and playtime.
A lower risk of injury or contagious diseases, as your dog won't be staying with other dogs in a kennel.