WoofConnect Johnson City (TN): Free Dog Boading At a Loving Home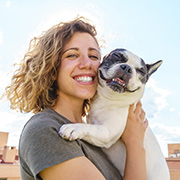 Are you planning a trip and looking for a trustworthy dog boarding facility in Johnson City (TN)? Look no further than WoofConnect! This amazing alternative offers free dog boarding in a cozy home setting, where your furry friend can receive personalized attention and maintain their own routine. Many dog owners prefer this kind of boarding over a traditional dog kennel in Johnson City, as it's safer and less stressful for their beloved pets. With WoofConnect, all you need to do is download the app to easily find the perfect home for your dog while you're away.
Connect with Other Dog Owners for Boarding
WoofConnect connects dog owners with each other to find a perfect match for dog boarding. You can find owners nearby with dogs of the same breed and age, making for a good match since they speak the same language and have the same energy.
Skip the Expensive and Impersonal Dog Kennel
Why pay up to $50 a day at a Johnson City dog kennel when you can have free, loving home-based dog boarding through WoofConnect? Boarding your dog for a week at a kennel can cost around $200 to $350, and if you opt for a personal dog sitter, you'll likely pay even more. Save yourself and your dog the hassle and sign up for WoofConnect for a safe and cozy home for your dog.