WoofConnect: Leading Home Dog Boarding in Wirral – Reliable and Loving Service for Your Beloved Pet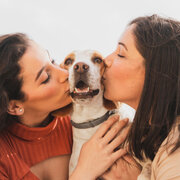 When planning a holiday or a business trip, choosing the right care for your dog is crucial. The thought of leaving them at a standard boarding kennel in Wirral might cause concern, as these places can often feel impersonal and distant. Moreover, with prices ranging from £25 to £40 per day, it's essential to find an option that's both economical and doesn't compromise on affection. WoofConnect is a game-changer in this regard, offering complimentary cosy home dog boarding that places paramount importance on top-tier care and affection for your furry friend.
WoofConnect: Wirral's Community of Dog Enthusiasts
WoofConnect revolutionises traditional pet care models – it's a network of trustworthy dog aficionados in Wirral, committed to treating pets as if they were their own. Our aim? To match your dog with a local carer who provides the warmth and special attention every dog deserves.
Creating a Comfortable Setting for Dog Boarding
While conventional kennels might cover basics like daycare and walks, they often lack in providing genuine attention and a homely atmosphere for dogs. WoofConnect addresses this by pairing your pet with a devoted dog lover nearby – a carer who understands your dog's unique traits and offers a 'second home' experience that mirrors the loving environment of their usual home.