WoofConnect: Elevating Home Dog Boarding in Chester – Your Dog's Luxury 'Home from Home'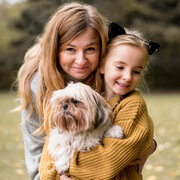 To the esteemed dog guardians of Chester, it is acknowledged that a dog is not merely a pet but a part of the family. As such, the prospect of finding suitable care for your canine companion during times of travel is paramount. Traditional boarding kennels, with their impersonal ambiance and the risk of kennel cough, can make this task daunting, not to mention the financial burden with costs ranging from £15 to £30 per day. Enter WoofConnect, Chester's answer to a doggy dilemma, offering a warm, affectionate 'home from home' environment, entirely complimentary.
WoofConnect: A Tapestry of Canine Companionship in Chester
WoofConnect transcends the conventional dog boarding service by creating a community tapestry of dog enthusiasts within Chester's locale. Our dedication lies in weaving a network where dog owners can meet and provide a secure, affectionate, and homely milieu for dogs in their care. By engaging in this heartfelt initiative, we ensure that each dog is bestowed with the individual care and attention they need, in a friendly dog boarding home that echoes their own.
Crafting a Reassuring and Relaxing Dog Boarding Alternative
While kennels offer a fundamental service, they often fall short in providing the reassuring and relaxing environment dogs thrive in. WoofConnect's philosophy is to match your beloved pup with a Chester-based dog lover, someone who will greet your dog with a warm welcome and ensure they settle in, feeling right at home. This bespoke service reimagines the dog boarding experience in Chester, fostering a luxury home environment for your dog's respite.