WoofConnect: Free Dog Boarding in Manchester – A Home-like Haven for Your Beloved Dog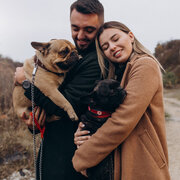 Every dog parent, at some point, is faced with the predicament of travelling without their faithful companion. The thought of leaving their pet in a traditional, cold kennel in Manchester, can be heart-wrenching. Coupled with the financial burden it imposes – with costs averaging between £25 and £40 per day – the situation is far from ideal. Fortunately, WoofConnect is here to revolutionise dog boarding in Manchester, offering a loving, cost-free alternative to conventional kennels.
WoofConnect: Revolutionising Dog Boarding in Manchester
WoofConnect is more than a service; it is a community of devoted dog lovers. Our platform connects dog owners in Manchester, facilitating a nurturing and comforting environment for your pet, even in your absence. Our mission is to provide your dog with a temporary guardian who will shower them with all the affection and care they deserve.
A Cage-Free, Comfortable Environment for Your Dog
Traditional kennels may serve a purpose, but the environment can often be impersonal and stressful for dogs. WoofConnect transforms this experience, matching your pet with a local dog lover who understands your dog's breed-specific behaviours and energy levels. This innovative approach to dog boarding in Manchester offers a homely, stress-free environment for your pet, ensuring they feel loved and cared for while you're away.
High Quality Dog Care at No Cost
Typically, a one-week stay at a dog kennel in Manchester could cost you between £175 and £250, a considerable outlay that can strain your travel budget. WoofConnect presents a budget-friendly alternative that doesn't compromise on the quality of care. By connecting you with passionate dog owners in Manchester, we offer a unique and completely free service that prioritises your dog's welfare and happiness.