WoofConnect: Leading the Way in Dog Boarding in Liverpool – A True Home Away from Home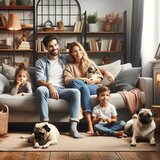 For dog enthusiasts in Liverpool searching for the ideal place to board their pet, the decision is significant. You're seeking more than a mere drop-off spot; you desire a welcoming setting where your furry friend will be well looked after, akin to their second home. That's precisely what WoofConnect offers – a homely, family atmosphere for your four-legged companion.
A Unique Experience in Dog Boarding
At WoofConnect, we're transforming dog boarding in Liverpool. Our approach is centred on providing your dog with a personal and engaging stay. We connect dog owners with dedicated dog sitters who create a homely environment, ensuring your pooch receives excellent care, as well as the love and routine they're used to. This distinctive aspect places WoofConnect among the best in Liverpool's local dog boarding community.
A Comfortable Retreat for Your Dog in Liverpool
While numerous kennels provide basic services, they can often lack that additional touch of affection your dog yearns for. WoofConnect fills this gap with comfortable, dog-friendly homes. Here, dogs can enjoy their daily walks, playtime, and the crucial sense of belonging – a significant departure from conventional, impersonal boarding options.