WoofConnect: Revolutionising Dog Home Boarding in Wigan – An Affordable, Homely Solution for Your Furry Friend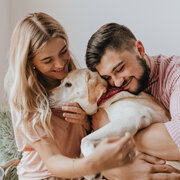 For every dog owner, the joy and companionship of a furry friend come with a set of responsibilities, especially when it comes to travelling. The thought of leaving your beloved pooch in the often impersonal and clinical setting of traditional boarding kennels in Wigan can be disheartening. The cost, typically ranging from £20 to £35 per day, adds to the dilemma, highlighting the need for a home-from-home, cost-effective solution. Enter WoofConnect, a trailblazing platform providing a warm, nurturing home boarding option that promises a perfect dog boarding experience without the hefty price tag.
WoofConnect: At the Heart of a Dog-Loving Community in Wigan
WoofConnect is more than just a service—it's the hub of a vibrant dog-loving community in Wigan and the surrounding areas. We connect dog owners with a network of trusted dog sitters in Wigan, ensuring a secure and loving home environment for your pup while you're away, filled with cuddles, playtime, and the essential love and attention every dog deserves.
Creating a Comforting Home Environment for Your Dog
The usual home setting a dog is accustomed to is often missing in conventional boarding kennels. WoofConnect is dedicated to providing a welcoming, home-like atmosphere by pairing your dog with a host family in Wigan who not only loves dogs but also understands the particular needs and temperament of your dog's breed. Our ethos is to create a great alternative to kennels by ensuring your pet feels well looked after in a loving home, mirroring their daily routine and environment as closely as possible.