Exceptional Dog Boarding Experience in Rochdale with WoofConnect: Redefining Care for Your Beloved Canine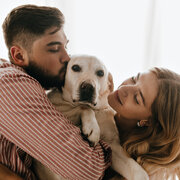 The Ultimate Solution to Your Dog-Parent Worries with WoofConnect in Rochdale
Suppose you're organising an enthralling holiday or perhaps a well-deserved weekend retreat. However, what of your enthusiastic, tail-wagging comrade? This is a quandary that plagues every dog owner. The mere idea of leaving your cherished furry friend in a sterile, exorbitantly priced kennel in Rochdale can induce feelings of unease. After all, whilst you're off exploring the unknown, your canine companion deserves a sanctuary that echoes the comfort and warmth of their own home – a place where they are truly loved and cared for. Enter WoofConnect, your beacon of hope, providing an avenue to discover your dog's loving temporary guardian right here in Rochdale, someone who will shower them with all the affection they merit.
Transforming Dog Boarding in Rochdale – Free and Joyful
WoofConnect serves as a nexus, linking dog parents in Rochdale whose canine companions share similar breed characteristics, age, and exuberance. It's akin to finding your pet a playmate who comprehends the same canine dialect and mirrors their spirited enthusiasm, cultivating an impeccable harmony every single time!
Say Cheerio to Traditional Kennels – Embrace Cozy, Cage-Free Boarding
Wave goodbye to the orthodox kennel model and embrace a nurturing, homely environment here in Rochdale. WoofConnect pairs you with a local dog-sitter, someone familiar with your pet's breed and energy patterns.
Swapping Expensive Dog Kennels for Free, Compassionate Care
Crunch the numbers: traditional dog kennels in Rochdale could cost you between £60 and £80 a day, totalling a hefty £420 to £560 a week. With WoofConnect, however, you unlock the wonder of free, home-like dog boarding right here in Rochdale. This distinctive service is rendered by bona fide dog enthusiasts with the aptitude to provide your furry companion with the personalised attention and affection they require.