WoofConnect: Your Pooch's Paradise for Free, In-Home Dog Boarding in Tacoma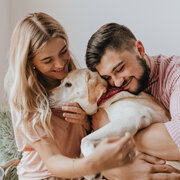 You know the feeling, right? Bags packed for that well-earned getaway or last-minute road trip, but then it hits you. Who's going to take care of your fur kiddo? Leaving your precious pooch in a distant, pricey kennel in Tacoma isn't exactly appealing. Now, envision this instead: your canine buddy living it up on their own mini-break, nestled in a place where they feel secure and relaxed, under the watchful eye of someone who showers them with love as if they were their own.
WoofConnect is here to turn this dream into reality. Consider it your trusty platform for dog boarding in Tacoma – it's like a five-star resort for your furry friend!
Forging Furry Friendships in Tacoma: Your Pup's Pal is Just a Click Away
Picture WoofConnect as a dynamic, vibrant gathering spot, but for dogs. It links you with other pet enthusiasts in Tacoma who boast a furry friend of the same breed, age, and spunk as yours. It's akin to discovering your dog's best mate, a comrade who speaks their language and mirrors their zeal. And the best part? It's a perfect match every time!
A Safe Haven: Your Dog's Snug, Cage-Free Sanctuary
Say farewell to the stark, impersonal ambiance of a kennel and hello to the warm, nurturing atmosphere. No cages in sight here, just a local pet sitter who truly gets your dog's breed, persona, and let's not forget, their endless craving for belly rubs.