Doggy Days in Renton: Free Boarding with WoofConnect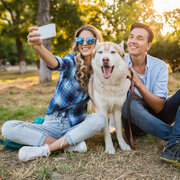 Every dog lover knows the struggle. You're all set for a well-earned vacation or a quick getaway, but there's one hitch. Who'll look after your furry friend while you're gone? Let's be real, the thought of dropping your beloved pooch off at an expensive kennel in Renton is a major mood killer. How about this for a game-changer: your pup chilling in a safe, cozy space, with a caring buddy who adores them just as much as you do.
Enter WoofConnect, your one-stop solution for dog boarding in Renton. It's like a swanky vacation spot, exclusively for your tail-wagger!
WoofConnect: The Social Boarding Network for Dogs in Renton
Imagine WoofConnect as a buzzing doggie social club. It links you up with fellow dog parents in Renton whose furry friends share the same breed, age, and spark as your own. In other words, it's like finding your dog's own partner-in-crime, who gets them and matches their energy. And guess what? It's always a pawfect fit!
Say Hello to Homely Boarding, Bye-Bye Cold Kennels
No more cages, no more dreary kennels. WoofConnect is all about the warm, fuzzy vibes of a home setting, managed by a local pet-sitter who understands your dog's breed, personality, and, of course, their love for endless cuddles.