WoofConnect Federal Way: Free In-Home Dog Boarding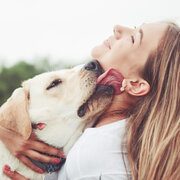 Let's embark on this journey together, all you lovely dog parents in Federal Way! Picture this: You're all set for that much-needed vacation or perhaps a short weekend escapade. But wait! There's one hiccup. What about your beloved furball? It can be a real predicament, can't it? Nobody wants to part with their cherished canine companion and leave them at an unfamiliar, high-priced dog kennel in Federal Way. Let's give that scenario a swift makeover: Imagine your four-legged buddy having their own mini-getaway in a place where they feel not just safe but also pampered and adored. All under the nurturing supervision of a fellow dog lover who will treat your pup as their own. Sounds wonderful, doesn't it?
Meet WoofConnect! It's your furry friend's passport to a tail-wagging adventure right in Federal Way. Think of it as a luxury resort for your pooch – it's all the fun, all the care, minus the kennel!
Building Bridges Between Buddies in Federal Way: Your Pooch's Perfect Partner is Just a Click Away
WoofConnect is like a vibrant, interactive social boarding network, designed exclusively for our four-legged pals. It bridges the gap between you and other pet parents in Federal Way who are parents to a pup that's the same breed, the same age, and has the same verve as your dog. It's like discovering your pet's long-lost twin, a furry friend who understands their language and matches their energy. The perfect playmate! And the best part? It's always a spot-on match!
A Cozy Den: Your Dog's Warm, Kennel-Free Haven
Wave goodbye to the cold, impersonal ambiance of a typical kennel and usher in the inviting, affectionate environment that WoofConnect promises. Here, you won't find cages. Instead, you'll discover a local pet sitter who understands your dog's breed, temperament, and most importantly, their insatiable love for unlimited belly rubs.