Discover Free In-home Dog Boarding in Bellevue – A Haven for Your Dog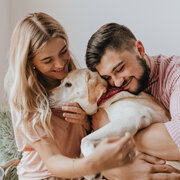 Ever grappled with the quintessential dog owner's conundrum – where to leave your furry best friend when you jet off for a vacation or a weekend getaway? Let's face it; the thought of confining your lovable pooch in an unfamiliar and overpriced kennel in Bellevue doesn't quite sit well with you. Ideally, you'd want your dog to relish their own little vacation, feeling secure and at ease in a warm home setting, receiving the same TLC they're used to from you. Enter WoofConnect – a platform that links you with like-minded dog parents in Bellevue who own a dog of the same breed, approximately the same age, and are seeking someone like you to reciprocate care. Your dog's perfect playmate and a home away from home are just a click away!
WoofConnect: Your Ticket to Seamless Dog Boarding in Bellevue
Imagine this – an effortless match with other dog parents in Bellevue who own a pooch of the same breed and age as yours. Dogs who 'speak' the same language and brim with similar energy. That's WoofConnect for you, always making a pawfect match!
Cherishing Your Dog in a Homely Setting: Where Love Meets Comfort
WoofConnect rids you of the dread associated with impersonal kennels and introduces you to a comforting, home-like environment. Your dog's sitter, based in Bellevue, is familiar with your pet's breed and their unique energy, providing a haven for your canine companion.