WoofConnect: The Revolutionary Free Dog Boarding Solution in Everett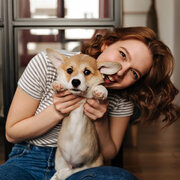 Isn't it true that every pet parent grapples with the same predicament when planning a vacation or a quick getaway? Leaving your four-legged friend in an impersonal and exorbitantly priced kennel in Everett is far from ideal. While you're off exploring new places, your furry friend too deserves a loving environment, a place that resonates with homely warmth, under the affectionate watch of a person who adores your dog as much as you do. Enter WoofConnect – your trusted partner in finding just the right place and person for your pooch in Everett.
Bridging Paws with WoofConnect – Your Dog's Second Home in Everett
WoofConnect acts as a lively, dog boarding platform, specifically designed for your loyal companions. It helps you find fellow dog parents in Everett who have a furry friend of the same breed and age as your own. It's like setting up a playdate for your dog with their breed twin, ensuring they speak the same dog language and share the same energy levels.
Your Pet's Comfort Zone with WoofConnect
Bid adieu to the cold confines of a kennel and say hello to a warm, inviting environment with WoofConnect. No bleak cages, just a local pet caretaker who understands your dog's breed, temperament, and their love for endless belly scratches.