Revolutionize Your Dog's Boarding Experience with WoofConnect – A Tail-Wagging Journey in Sandy Springs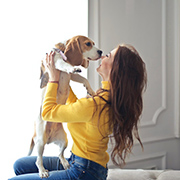 As a dog parent, you're often faced with a conundrum: what to do with your four-legged best friend when you're away for a vacation or even a weekend getaway? Leaving your dog in a conventional kennel in Sandy Springs might feel impersonal and uncomfortable. That's where WoofConnect steps in, offering a loving, home-like environment for your dog while you're away. It's not just a place, but a community that understands and shares your love for dogs. The best solution for dog boarding in Sandy Springs.
Exchanging Kennels for Comfort: A New Era of Dog Boarding
Traditional dog kennels in Sandy Springs may not always provide the personalized care and attention your canine companion deserves. WoofConnect is here to revolutionize that with an alternative that's bound to set tails wagging in joy. Say goodbye to cramped kennels and limited food options, and hello to a cozy, warm home away from home, where your dog is showered with love and care.
Creating a Dog Community: Connecting Owners in Sandy Springs
Discover the joy of finding a match with other dog parents in Sandy Springs, those who have a dog of the same breed, similar age, and energy. Dogs, just like humans, thrive when surrounded by like-minded companions. WoofConnect enables this harmony, leading to enriching connections for both dogs and their owners.