Atlanta's Fresh Take on Dog Boarding: WoofConnect's Progressive Dog Care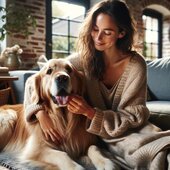 In Atlanta's hustle and bustle, dog owners often struggle to find the ideal place for their dogs when they're out of town. That's where WoofConnect steps in, changing the game in Atlanta's dog boarding scene. Our pioneering platform doesn't just offer a service, it builds a community that reimagines pet boarding. By placing dogs in welcoming homes, they get the love and attention that they need.
WoofConnect: The Ultimate Overnight Dog Boarding Solution in Atlanta
WoofConnect is more than just a platform; it's a community of dog lovers that facilitates connections between dog owners with similar breeds, age, and energy levels. It's not merely about boarding; it's about providing the best dog care in Tucson, creating an environment of comfort, familiarity, and joy for your dog. Your dog gets to stay in another dog owner's home, enjoying the same comforts and affections that they are used to at their own homes.
Redefining Pet Boarding: Your Dog's Home Away from Home
Ditch the traditional, impersonal kennels that fail to deliver the affectionate, individual care that your dog deserves. WoofConnect promotes a radical change, introducing a cozy home-like environment for your cherished fur friend, a place where they'll enjoy all the love and attention they warrant. WoofConnect is not just about overnight dog boarding, it's about making your furry friend feel at home.