WoofConnect, the Unique Free Dog boarding Solution in Roswell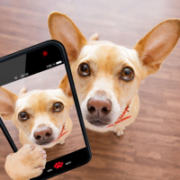 When it comes to leaving your furry companion behind for a trip, the concern is always the same. Where can your dog stay that's not just another impersonal kennel in Roswell? You want your dog to enjoy a comfortable and familiar environment while you're away. That's where WoofConnect comes in! We find that perfect match for your dog in Roswell, someone with a similar breed dog, of comparable age, looking for exactly what you're offering. It's not just dog boarding; it's a doggie vacation where the love and care match yours. It's about making connections that extend beyond the holidays – spending weekends or days out together. Same breed, same energy, always a perfect match. Welcome to WoofConnect, your dog's home away from home in Roswell.
WoofConnect: Bridging the Gap Between Dog Owners in Roswell
Discover perfect matches with dog owners in Roswell who have dogs of the same breed or crossbreed and age as yours. When dogs share the same language and energy, it's a guaranteed excellent match!
Home-like Boarding for Your Dog – Their Home Away From Home
We're all about ditching the cages and creating a cozy, homely environment for your dog. Your dog will be in the care of a local sitter who understands and connects with your dog's breed and energy level.