Starting a New Era of Dog Boarding in Columbus: WoofConnect – Your Friendly and Loving Option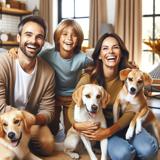 If you love your dog like family and worry about where to leave them when you travel from Columbus for a break or a short trip, you're not alone. The idea of leaving your precious pup in a cold, distant boarding facility can make you feel anxious. What if your furry friend could enjoy a cozy atmosphere just like home, filled with love and care, even when you're not around? This is where WoofConnect steps in, offering an innovative way to look after dogs in Columbus.
WoofConnect: Taking Dog Boarding in Columbus to the Next Level
WoofConnect Columbus is more than a place to stay; it's a vibrant community that connects dog owners who have dogs that are similar in breed, age, and activity level. It's about creating a loving and festive environment for your dog. Imagine your dog being taken in by another dog lover's home, enjoying all their home comforts and love they get from you.
Reimagining Dog Boarding: WoofConnect – A Second Home for Your Pup
Say goodbye to old-school, unfriendly kennels that don't give your dog the affectionate, one-on-one attention they need. WoofConnect is changing the game, letting your beloved pooch stay in a warm and homey place full of all the love and cuddles they deserve.